Besøg Økologiens Have i Odder
Organics Garden in Odder, south of Aarhus is the largest organic inspection and demonstration garden. The garden spreads over 11.8 acres.
This is equivalent to 118,000 sqm. or 150 private gardens.
Organics Garden is divided into many different theme gardens. Here you can smell and see several thousand plants.
We also have sheep, goats, rabbits, chickens, donkeys, ponies and calves on pasture in the summer.
Visit the garden and get tips and ideas on how you can grow your garden organically.
There is plenty of space where the kids can play.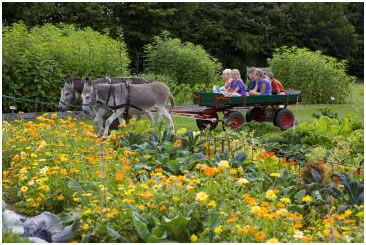 Kystfiskeri, Alrø
Fish Species: Brown trout, steelhead and garfish during the season.
Tip: Excellent family site on the east side of the dam for garfish.
High tide and weak westerly winds ideal. Bubble float with herring. Brown trout and steelhead in deep channels between Alrø and Lerdrup Beach. Wading necessary.
Well fly water or herring and bubble float.
Important: Render up to 3m deep with strong currents, vigilance is necessary.
Parking: At the end of the dam, there is a parking space. It is not allowed to park on the dam.
Alrø by loop:
Fish Species: Brown trout, steelhead and garfish during the season.
Parking: Excellent spacious room with toilet.
Tip: across the mussel reef that goes in a westerly direction from Egehoved approx. 10 minutes. walk to the right. Can be seen at low tide. Obvious fly space.
Use of waders required. Deep channel with strong currents Exercise great caution.

Sondrup, Åkjær, Uldrup Bakker
Country cabinet is shaped by the ice age. A large part of the forest area is a forest reserve with old deciduous forest, mostly beech, but there are also stretches of oak and ash. There are marked trails and special mushrooms interested can see instances of many different species of fungi. From udsigtsigtshøjene's views on Alrø and Vorsø. There are also a rich bird life.